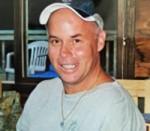 November 10, 1961
-
May 22, 2020
Resided in

Eugene

,

Oregon
Obituary
Todd, aka JZ, was a one-of-a-kind. He grew up in Hyde Park, a neighborhood in Chicago, with his younger sister Margaret and parents Larry and Susan. He was a smart kid with a lot of energy and a foxy grin. School wasn't necessarily his thing, but he excelled at sports. He liked all sports, but loved soccer the most, and was a lifelong fan. He was a great player.
He lived in Chicago off and on, playing for various soccer clubs: Hyde Park FC, Fandango, Schwaben, with the Lithuanians in Marquette Park, the Third World League in Jackson Park, and Gatto Verde. He helped to organize the indoor club Chicago Lions, with whom he went to Lake Placid to play in an international tournament. He went to Norway after that to play with a second division team. He was on winning teams in the Prairie State Games in Illinois in the mid 90's. At the conclusion of his playing career he became involved with the Illinois State Soccer Association. He coached the state select team for a few years, and was a great scout, identifying upcoming minority players in Chicago. He helped to do thousands of physical exams for public high school students at reduced cost, to help poor kids participate in athletics without a barrier.
Todd lived and played mostly in Chicago, Boulder, and Jamaica. He moved to Eugene in the mid-90's, where his dad lived. In Eugene he drove a car for hire for many years, and made many friends along the way. He was not interested in money, but in people.
Todd found his way through life by his wits, charm and humor. He went into treatment in 1993. He burned many bridges when he was using, but found help, joy and belonging in the AA community. He was very active in that community, both in Chicago and Eugene, and wherever life took him. He helped run a treatment house in Chicago, organized various 12-step groups for National and International conferences, was a good speaker himself, and went to thousands of meetings. He had an enormous impact on people in the sobriety community. He had been proudly sober for 27 years.
Todd leaves behind those who loved him dearly: his mom Susan Lane, sister Margaret (and Bob) Dunsmore, niece and nephew Emma and Henry Dunsmore, and his best friend Dr. Michael Gross. He will also be missed by his extended family: step siblings Laura (and Rich) Lane, Linda (and Mehrdad) Haghi, KC (and Roxanne) Lane; nieces Lydia, Leila, Sarah, and nephews Jake and Josh; and cousins Kit, Kevin, and Susan Sprague. He leaves behind multitudes of people who were touched by his life in some way, including Jami, Taina, and Valerie.
He was preceded in death by his dad Lawrence (LT) Zimmer, step-dad Ken Lane, grandma Edna Spafford, aunt Ida Sprague, and uncle Dion Spafford.
He marched to his own drummer and was his own man, loved for who he was.
To send flowers or a remembrance gift to the family of Todd Zimmer, please visit our Tribute Store.
Services
Funeral Home
Sunset Hills Funeral Home, Crematorium and Cemetery
4810 Willamette St.
Eugene
,
OR
United States
97405
2021-05-10T